Netflix is among the best video streaming services today, but that doesn't mean it's perfect. Some apps and extensions fill the gaps to make your viewing experience better than ever before.
We've featured a few such Netflix-improving apps New to Netflix? These 5 Apps Make It Even Better Netflix is growing fast. If you're new to the service, know that there are a bunch of third party sites and tools that make using it even better. Read More before, and there's the ultimate Netflix guide The Ultimate Netflix Guide: Everything You Ever Wanted to Know About Netflix This guide offers everything you need to know about using Netflix. Whether you're a new subscriber or an established fan of the best streaming service out there. Read More to answer any question you might have. But once you're past that, Netflix still has limitations that you want to overcome.
Be it an excellent catalog of everything on Netflix, or a quick-and-easy way to share clips from what you're watching, these tools have you covered.
1. Flixable (Web): The Last Netflix Catalog You'll Need
Netflix claims its interface is all about making it easier to find what to watch next. But in that quest, it's missing an easy-to-browse catalog of all the movies, TV shows, and documentaries. So one fan made the catalog that Netflix should have.
Flixable is as simple as it gets. It tracks all the new videos that Netflix adds to its catalog, and provides easy filters to sort them. Filters include genre, IMDb rating, and release year, and you can order them in different ways. I especially like the "Originals" tab for those awesome Netflix originals you haven't heard of 10 Awesome Netflix Originals You've Probably Never Heard Of Alongside the headline-making shows such as House of Cards and Stranger Things, there are countless Netflix originals that may have passed you by. Read More . You can also quickly see which movies and TV shows are going to be taken off Netflix at the end of the month.
Currently, Flixable works in US, UK, Canada, Finland, Germany, and the Netherlands. Other countries will be added soon too, the developer writes.
2. Simkl Enhancer (Chrome): Secret Codes, Notifications for New Episodes, Watchlist, and More
In case you didn't know, Netflix has secret codes and categories 20 Secret Netflix Codes Guaranteed to Help You Find New Content Here's our list of the 20 secret Netflix codes guaranteed to help you find new content. Read More to better browse its content. For some reason, the app doesn't show those there. But with a simple Chrome extension, you can browse these categories with ease.
The extension is powered by Simkl, and first, it dives into what you have already watched on Netflix. By adding all these to its database, Simkl can tell you about the release of a new episode of a show you are watching, or recommend films based on what you already liked. Importantly, it's an automated catalog of everything you have seen.
Simkl also adds the aforementioned browsing feature to look up secret categories. You can sort these by TV shows, anime, or movies, and then pick the code you want. The extension also includes a "random movie recommendation" based on your likes, a bit like the classic Netflix Roulette 6 Key Tools to Get the Most Out of Netflix Browsing Netflix for the best movies to watch is like a treasure hunt. When finding the perfect streaming title is difficult, use these 6+ tools to make Netflix easier to use. Read More .
Download: Enhancer for Netflix for Chrome (Free)
3. Projections.io (Chrome, iOS): Instantly Create a Clip of the Last 20 Seconds
Movies and TV shows often have moments you want to share with your friends. Projections.io is the absolute easiest way to do this. With one click, it will create a clip of the last 20 seconds of what you watched on Netflix.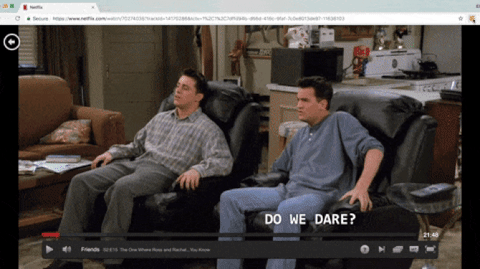 Here's how it works. Install the Chrome extension or the iPhone app. When you're watching something on Netflix and love it, click the Projections.io icon. The video will pause and the app will create a new clip of the last 20 seconds. If you had subtitles switched on, the text will show up too. Now you're free to share this clip with anyone.
The only downside, as such, is that the clip is hosted on Projections.io's site. It can be embedded anywhere, of course. And anyone can view the clip, without needing an account. But it would have been nice to be able to convert it into a GIF 5+ Best Sites & Apps to Find, Create, or Edit the Perfect GIF From hilarious memes to screencasts, GIFs are everywhere. But where do you find the perfect GIF? How do you make one yourself? With the few perfect sites and tools, you'll be set. Read More and share.
Download: Projections.io for Chrome | iOS (Free)
4. Rave (Android, iOS): Watch and Chat With Your Friends, In Sync
Want to watch Netflix with a friend far away, while chatting at the same time? Rave is a simple mobile app to do that. And it works across countries too.
It's as simple as it gets. Fire up the app, sign in on Netflix, and start a video. You can make it a public link so anyone can join, or make it private so you can invite select friends. Once they join, you can chat in the window under the video. It's a smaller sized video, which is a bit annoying. It's a better experience on tablets than on phones.
Remember, Netflix has different catalogs in different countries How to Watch Everything on Netflix No Matter Where You Live In this article, we explore why Netflix content differs from country to country, and how you can watch everything on Netflix regardless of where you live! Read More . You'll need to make sure that the video you're watching is available in both your's and your friend's nation.
Apart from Rave, there are other ways to watch Netflix with your friends 9 Ways to Watch Netflix With Friends Far Away We've discovered different ways you can watch Netflix with friends right now, no matter where in the world they're located — because distance shouldn't be a barrier to binge-watching. Read More . Netflix Party is an excellent option if you are watching on a computer with Chrome.
Download: Rave for Android | iOS (Free)
5. Video Adjust for Netflix (Chrome): Change Brightness, Saturation, Contrast
Three aspects of your laptop or desktop screen can affect how a video looks: brightness, saturation, and contrast. Unfortunately, Netflix doesn't change its video's looks based on your monitor's calibration 5 Online Tools to Help Calibrate Your Monitor The value of a good monitor will be lost if you don't take the pain to carefully calibrate your monitor. Here are five online calibration tools to ease into the process. Read More . So this app gives you extra control.
The best part about Video Adjust for Netflix is that you get to see before-after comparisons when adjusting settings, which makes a big difference in how much you tweak. It also uses hardware acceleration to change these settings on the fly, so your internet connection isn't over-tasked.
Video Adjust will remember the settings for any video, so you don't have to change it all the time. This is one of those simple apps that effortlessly boosts your viewing experience. Netflix should really offer this option as part of its app.
Download: Video Adjust for Netflix (Free)
What Should Netflix Fix?
All these apps and extensions have the same purpose: fix things that Netflix should have fixed themselves. It's like the VPN extensions that still work Which VPNs Still Work With Netflix? Netflix is trying to stop people accessing its service through VPNs, but a handful of VPNs are managing to stay one step ahead of the streaming giant. Read on to find out which ones… Read More , letting you watch films and shows anywhere.
What problem do you want Netflix to fix first?